Podcast Episode #32 – The Power of Your Voice
How Do You Use Your Voice?
Do you use your complete voice when you speak? Or is the sound that comes out of you merely a shadow of what's possible? Does your voice feel powerful and strong, or does it sound fragile, unstable or small? Can you confidently express yourself in any situation, or do you find yourself repeating the same bad habits again and again, and feeling like your voice is stuck inside you?
For most people, the voice that comes out is a drastically reduced version of how their complete voice could sound. And in order to get to know our true voice, we need to uncover the physical, emotional and mental blocks that are limiting us. So if you're curious about what a voice is, and what you need to do to truly use yours, then stay tuned!
Revolutionise Your Relationship to Your Voice!
Do you want to have an empowered relationship to your voice, and be able to use it confidently in any situation? Then join me for 1-to-1 voice training sessions. In our time together, I'll create a holistic program around your specific needs and wishes.
You'll get:
An individually tailored voice training program specifically focused on your voice needs and goals
Direct feedback on your vocal challenges with guided exercises to help you overcome them
Voice theory with clear explanations, so you understand what you're doing
Recorded exercises, so you can practice what you learn during in your own time too
Repeated practice using real world material such as speaking material related to your work
I've developed my unique voice method from over twenty years of international experience as a professional singer and voice coach. It's infused with body awareness techniques, mindfulness practices and transformative tools. My technique is fun, highly effective and easy-to-use. I've witnessed its power in over 200 clients, and it's my pleasure to share it with you now.
Love,
Kirbanu xox
Jessica, Germany

Human Resources

"Kirbanu trains so much more than just the voice. Her work transforms the body, mind and soul. Kirbanu uses playful exercises and effective techniques to help me connect to my authentic voice and change any block or beliefs holding me back. And she does it with a lot of heart and humour!"
Marie Brauburger, Germany

Text & Copywriting Coach

"Voice training with Kirbanu is really fun! She creates a trusting atmosphere and has an incredible number of tips on how to use and cultivate your own voice. I've only had a few sessions, and I'm already seeing huge progress 🙂 Speaking freely in front of the camera is much easier for me now!"
Samantha, Germany

Social Media Manager

"Thanks to Kirbanu, I see my voice as a tool that shows me in which situations I can relax more or where there may still be issues or beliefs that need to be resolved. I trust myself and my voice more now!"
Kelly, France

Project Manager

"This work was amazing! Kirbanu taught me to let my whole voice out!"
Diana, Germany

Author & Psychologist, Germany

"Kirbanu has been with me for 6 months now and a lot has happened in different areas of my life, because the voice also represents so many beliefs, topics and wounds in us... Our self-expression, lived out freely and safely, opens up many doors and gives us a whole new quality of life. I'm so grateful for this work!"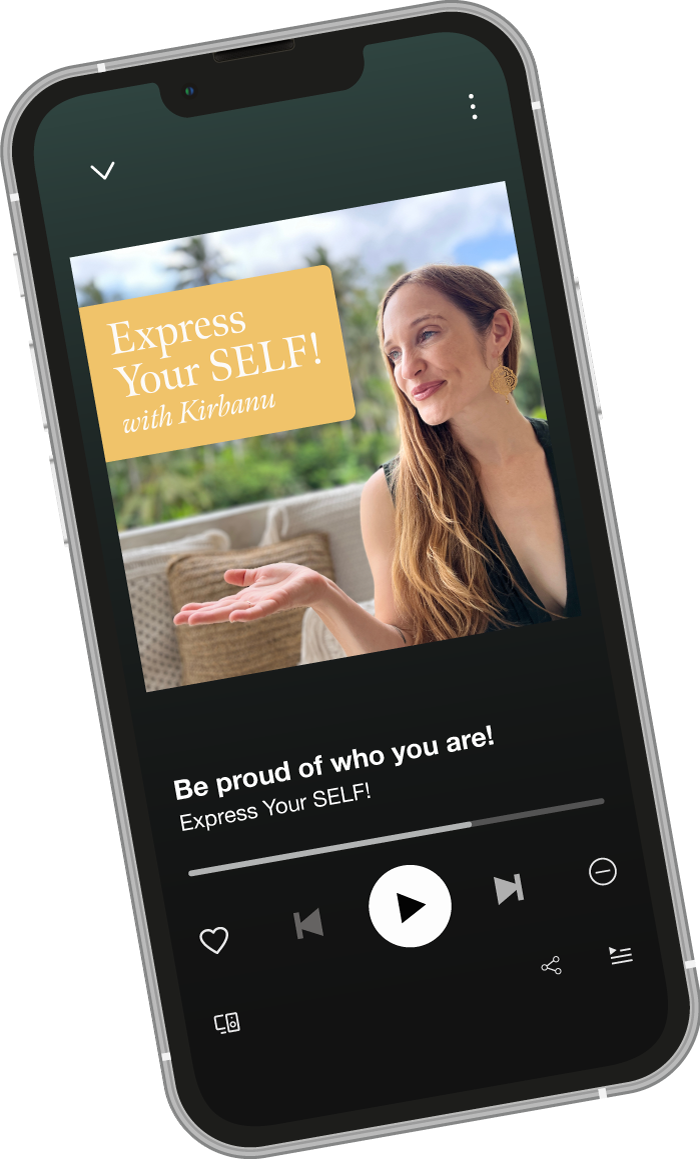 Empowerment & Expression
The Express Your SELF! Podcast
Your podcast for creativity, conscious business & soul-expression. Why? Because you are unique, your message is unique, and the world needs to hear what you have to say!
Listen on Spotify
Listen on Apple