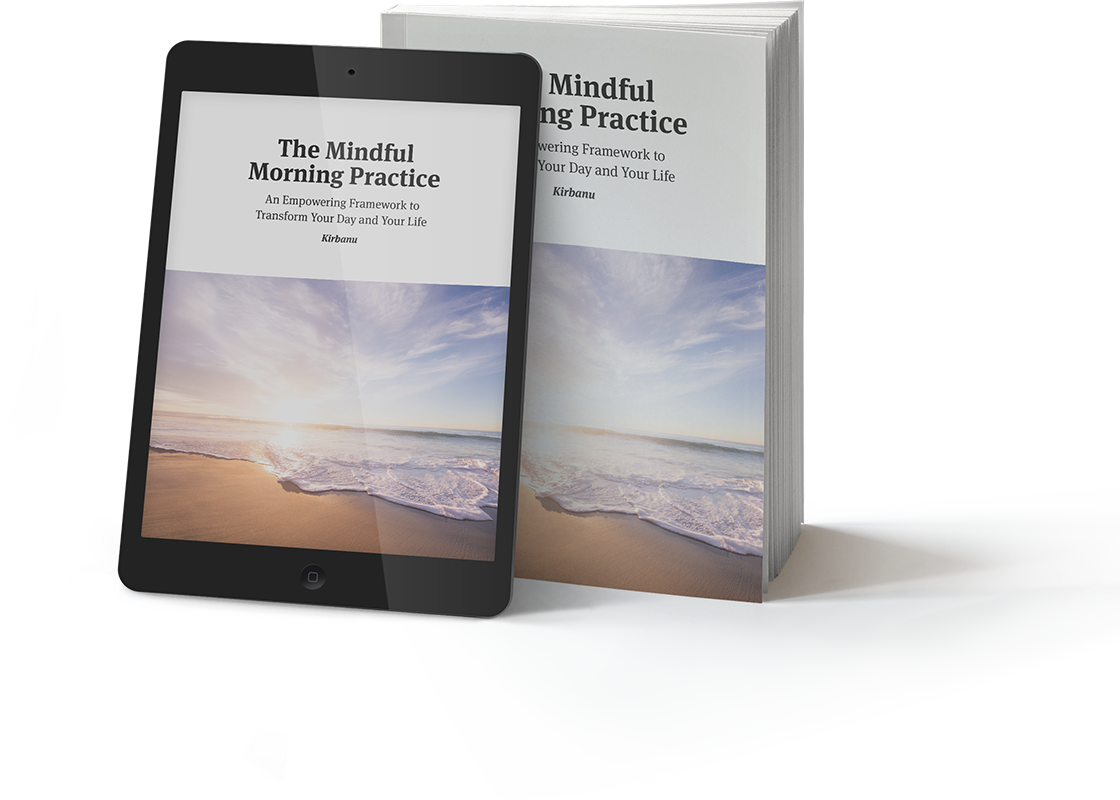 The Mindful Morning Practice
An Empowering Framework to Transform Your Day and Your Life
Begin your day with clarity, curiosity and a growth mindset
Change the 

behavioural tendencies holding you back

Navigate challenges 

with self-awareness and calm

Sidestep anxiety and 

improve your ability to experience happiness
A mobile optimised eBook for you to take anywhere!
Get Your Copy Now
Join the Mindfulness Community
Sign up to the free Mindfulness Community to receive inspiration, resources and advice to help you lead a more mindful life today!
About the Mindful Morning Practice
The Mindful Morning Practice centres around nine reflective questions. In under ten minutes these prompts help you transform anxiety and uncertainty, priming you to begin your day with clarity, curiosity and a growth mindset. You'll learn to change behavioural patterns holding you back, calmly navigate challenges, and experience more joy – allowing you to create the day, and the life, you wish for.
What you'll get
110 mobile optimised pages delivered in 13 chapters explaining the 9 questions and their use
Background information, scientific explanations, relatable examples and a clear process for answering each question
A detailed list of references and recommended further readings
A printable worksheet for daily use
An optional guided audio meditation
Get Your Copy Now
The Mindful Morning Practice
Transform Your Life with This Empowering Framework Today!
Buy here
A Note from the Author
This practice began out of personal need and necessity. Three years ago I struggled with anxiousness and negativity to the point that I sometimes didn't get out of bed. Knowing I couldn't live an empowered life like that, I developed this practice to help me transform my mindset. Since then, it's been paramount in reducing my anxiety, increasing my self-acceptance, and improving my overall life satisfaction. I truly believe it can do the same for you!
How to Get the Most Out of the Practice
Before you begin, read through the guide in its entirety
When you do the practice, answer the questions in the order given
Daily repetition and the intention behind your answers strengthens the work
You can do this practice as an individual, couple or in a group
Use the worksheet provided to help you answer the questions
A guided audio meditation is available if you need more structure
Join the mindful morning community for additional support and inspiration
Get Your Copy Now
The Mindful Morning Practice
Transform Your Life with This Empowering Framework Today!
Buy here
About the Author: Kirbanu
Australian singer, songwriter, voice coach, and mindfulness practitioner.
Hi there, I'm Kirbanu! I fuse music with mindfulness techniques to create empowering experiences that educate and inspire. From mindful music events to guided meditations, from holistic workshops to online voice coaching, I'm passionate about creating uplifting experiences that enhance your wellbeing, leading towards greater joy and fulfilment.
I'm also the founder of One Woman Tribe – an online community for creative female entrepreneurs – and host of the One Woman Tribe Podcast, which shares the stories, routines, tools and tips of inspirational women successfully living their creative life.
Send the Practice to Someone Who Needs It
The Mindful Morning Practice
Transform the Life of Someone You Care About with This Empowering Framework Today!
Give to a Friend