Podcast Episode #48 – Somatic wisdom through Ashtanga yoga!
Deep Dive into Ashtanga Yoga
In this week's episode I sit down with the lovely Monica from Omstars. An incredible yogi focused on the practice of Ashtanga Yoga. Monica radiates depth, consciousness, and awareness. Not only does Monica share the wisdom of yoga and the body but she also is the program director of Omstars.
To kick off the episode Monica talks about how she found her practice of Ashtanga yoga. Later Monica talks about how Ashtanga yoga supported her in the exploration of the philosophical underpinning of the practice of yoga asana. Kirbanu and Monica also deep dive into a chat about the somatic wisdom of the body. Monica so beautifully explains how the practice of ashtanga yoga teaches us the language of the body so we can listen to the somatic wisdom within it.
When we tap into the body we are feeling into the experience of the body, we are not looking for the body to speak in the spoken world. When we tune in this way to our bodies we can see where there are patterns within us that no longer support us, where things are getting stuck, and where we are holding onto things.
If you're ready to listen to or interested in the wisdom of the body, putting the body first, learning from the body, and stepping out of the mind then this is something special for you.
Stay in Touch with Monica
Want to learn more about connecting to your bodies somatic wisdom and the philosophical side of the Ashtanga yoga practice?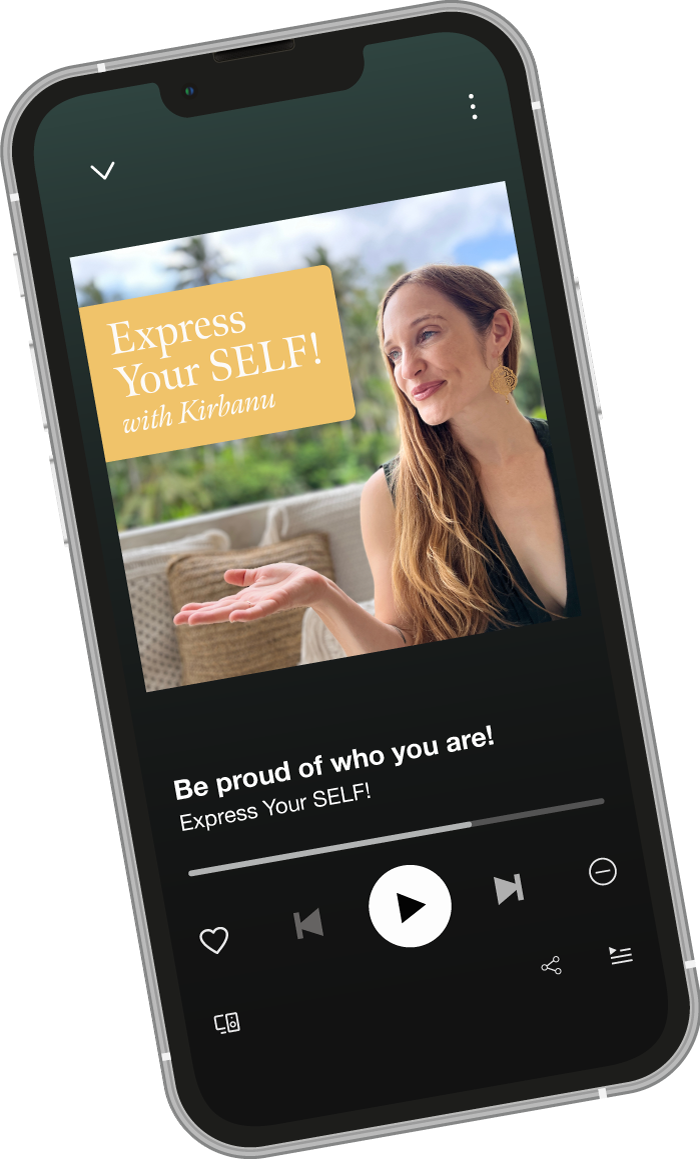 Empowerment & Expression
The Express Your SELF! Podcast
Your podcast for creativity, conscious business & soul-expression. Why? Because you are unique, your message is unique, and the world needs to hear what you have to say!
Listen on Spotify
Listen on Apple
Jessica, Germany

Human Resources

"Kirbanu trains so much more than just the voice. Her work transforms the body, mind and soul. Kirbanu uses playful exercises and effective techniques to help me connect to my authentic voice and change any block or beliefs holding me back. And she does it with a lot of heart and humour!"
Marie Brauburger, Germany

Text & Copywriting Coach

"Voice training with Kirbanu is really fun! She creates a trusting atmosphere and has an incredible number of tips on how to use and cultivate your own voice. I've only had a few sessions, and I'm already seeing huge progress 🙂 Speaking freely in front of the camera is much easier for me now!"
Samantha, Germany

Social Media Manager

"Thanks to Kirbanu, I see my voice as a tool that shows me in which situations I can relax more or where there may still be issues or beliefs that need to be resolved. I trust myself and my voice more now!"
Kelly, France

Project Manager

"This work was amazing! Kirbanu taught me to let my whole voice out!"
Diana, Germany

Author & Psychologist, Germany

"Kirbanu has been with me for 6 months now and a lot has happened in different areas of my life, because the voice also represents so many beliefs, topics and wounds in us... Our self-expression, lived out freely and safely, opens up many doors and gives us a whole new quality of life. I'm so grateful for this work!"