Podcast Episode #42 – The Ganesha Mantra for Abundance!
Mantra Talk!
In this episode Kirbanu shares with you her all time favorite mantra for abundance and helping us reconnect to our inner strength. Don't worry, if you are jumping into this episode with little to no knowledge about mantras, Kirbanu breaks them down to you! She explains that mantras can be a sentence or single words. The essence behind the mantra is that these words, sentences, or paragraphs have a very specific meaning. Not only do mantras have a specific meaning but they also hold an individual vibration that can be experienced while you are repeating them. There are many different ways to experience a mantra, they don't need to be chanted or sung, they can be said quietly to yourself in your own head.
Another fascinating topic that Kirbanu talks about is that mantra chanting doesn't just belong to yoga or the hindu transition but chanting in itself can be traced back to every single culture or human kind. Chanting is a human experience and Kirbanu has a beautiful and passionate way of explaining and sharing her love about it. Kirbanu ends the episode singing the beautiful Ganesha Mantra. So buckle up because this episode will have you running to try out this Ganesha mantra to welcome more abundance into YOUR life.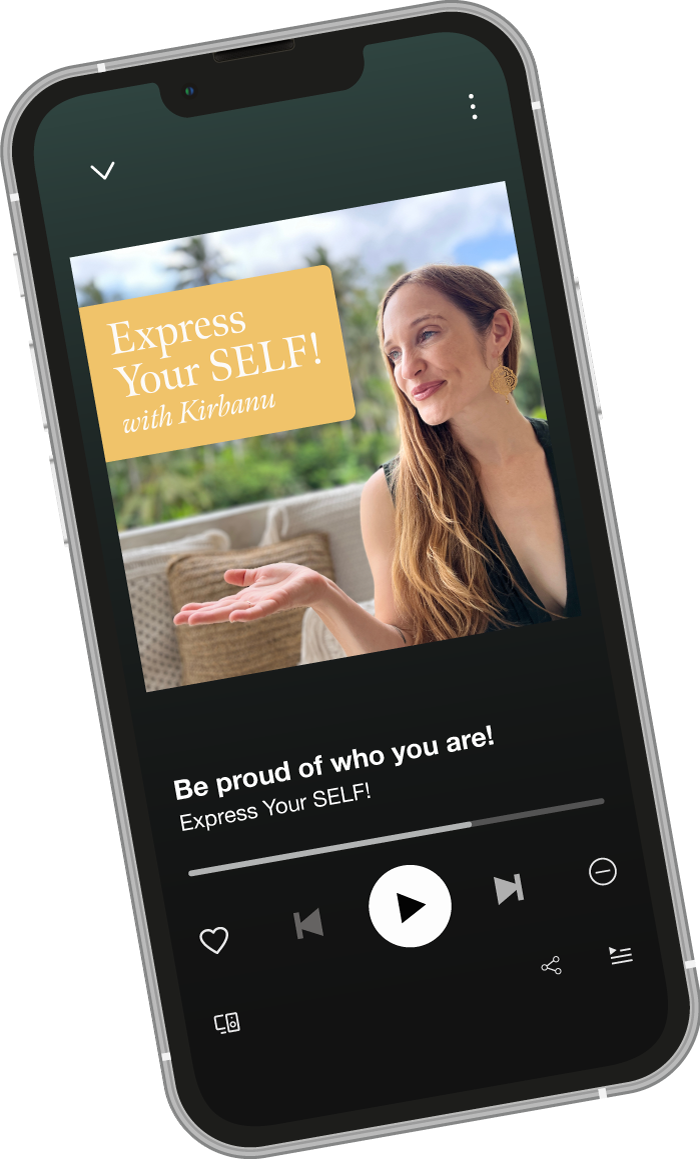 Empowerment & Expression
The Express Your SELF! Podcast
Your podcast for creativity, conscious business & soul-expression. Why? Because you are unique, your message is unique, and the world needs to hear what you have to say!
Listen on Spotify
Listen on Apple
Jessica, Germany

Human Resources

"Kirbanu trains so much more than just the voice. Her work transforms the body, mind and soul. Kirbanu uses playful exercises and effective techniques to help me connect to my authentic voice and change any block or beliefs holding me back. And she does it with a lot of heart and humour!"
Marie Brauburger, Germany

Text & Copywriting Coach

"Voice training with Kirbanu is really fun! She creates a trusting atmosphere and has an incredible number of tips on how to use and cultivate your own voice. I've only had a few sessions, and I'm already seeing huge progress 🙂 Speaking freely in front of the camera is much easier for me now!"
Samantha, Germany

Social Media Manager

"Thanks to Kirbanu, I see my voice as a tool that shows me in which situations I can relax more or where there may still be issues or beliefs that need to be resolved. I trust myself and my voice more now!"
Kelly, France

Project Manager

"This work was amazing! Kirbanu taught me to let my whole voice out!"
Diana, Germany

Author & Psychologist, Germany

"Kirbanu has been with me for 6 months now and a lot has happened in different areas of my life, because the voice also represents so many beliefs, topics and wounds in us... Our self-expression, lived out freely and safely, opens up many doors and gives us a whole new quality of life. I'm so grateful for this work!"