Podcast Episode #43 – From Western medicine to Ayurveda wellness!
Let's talk about wellness!
What does freedom truly mean? In this episode I chat with the amazing Dr. Nadine Webering who goes into answering this question for us. Not only does Nadine talk about what freedom means to her but she also goes into depth about how she made the jump from being in a bustling career as a doctor and moving into practicing and using ayurveda. Nadine talks about how the shift from western message and working with ayurveda didn't feel like a big shift but was more of a missing puzzle piece from her practice as a western medicine doctor. Not only does Dr. Nadine Webering use ayurveda on her clients but she also uses it in her own everyday life to heal herself. Western medicine is often focused on treatment of illnesses where using ayurveda is more about overall wellness and prevention to Nadine.
Though we spend a lot of the episode talking about ayurvedic medicine we also went into chatting about pranayama, and yoga, and how Nadine has brought these offerings into her repertoire of wellness tools and teaches them to her students now! Nadine's journey in the wellness community is truly inspiring and I know this episode will have you jumping to add ayurvedic medicine, pranayama, and yoga into your wellness routines as well!
Stay in Touch with Dr. Nadine Webering
Want to learn more about Nadine's trainings and ask her more about how she uses ayurveda, pranayama, and yoga for overall wellness? Connect with her on her instagram or check out her website and trainings.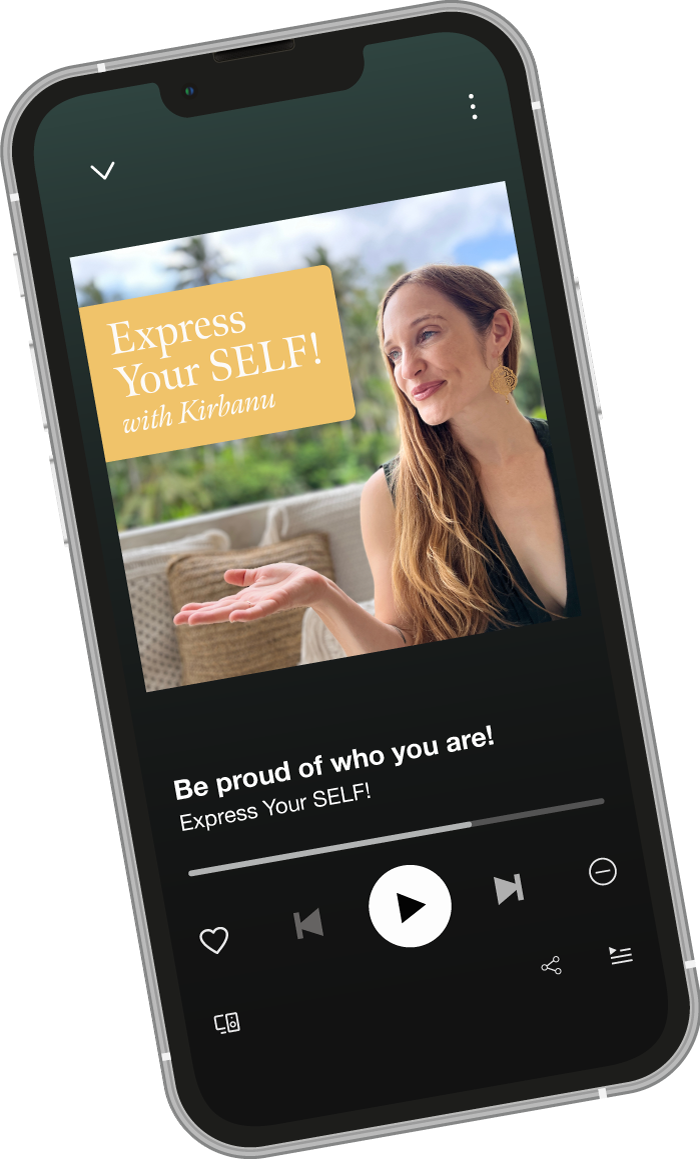 Empowerment & Expression
The Express Your SELF! Podcast
Your podcast for creativity, conscious business & soul-expression. Why? Because you are unique, your message is unique, and the world needs to hear what you have to say!
Listen on Spotify
Listen on Apple
Jessica, Germany

Human Resources

"Kirbanu trains so much more than just the voice. Her work transforms the body, mind and soul. Kirbanu uses playful exercises and effective techniques to help me connect to my authentic voice and change any block or beliefs holding me back. And she does it with a lot of heart and humour!"
Marie Brauburger, Germany

Text & Copywriting Coach

"Voice training with Kirbanu is really fun! She creates a trusting atmosphere and has an incredible number of tips on how to use and cultivate your own voice. I've only had a few sessions, and I'm already seeing huge progress 🙂 Speaking freely in front of the camera is much easier for me now!"
Samantha, Germany

Social Media Manager

"Thanks to Kirbanu, I see my voice as a tool that shows me in which situations I can relax more or where there may still be issues or beliefs that need to be resolved. I trust myself and my voice more now!"
Kelly, France

Project Manager

"This work was amazing! Kirbanu taught me to let my whole voice out!"
Diana, Germany

Author & Psychologist, Germany

"Kirbanu has been with me for 6 months now and a lot has happened in different areas of my life, because the voice also represents so many beliefs, topics and wounds in us... Our self-expression, lived out freely and safely, opens up many doors and gives us a whole new quality of life. I'm so grateful for this work!"