Activate your Shakti
Learn to Connect to your Creative Essence!
Do you struggle with connecting to your creative energy? Are you constantly feeling blocked when trying to connect to your femininity? In yoga, this creative essence is called Shakti. It's seen as the feminine force of manifestation. When we become out of alignment you can lose touch with our shakti and you have to learn how to activate your shakti again! You can use different tools to activate your shakti. Connecting to our Shakti energy is activating, beautiful, and sometimes even a little wild. We can suddenly become inspired and act on our impulses. Or we can find ourselves stepping out of our comfort zone to pursue a creative endeavour we never thought possible.
Shakti energy liberates us from our reservations. It gives us the courage to act, create and manifest. And we ALL have this energy inside us. We just need to set aside the time to consciously tap into it.
Kirbanu delivers everything you need to experience epic personal growth and transformation in your life.
Listen on Spotify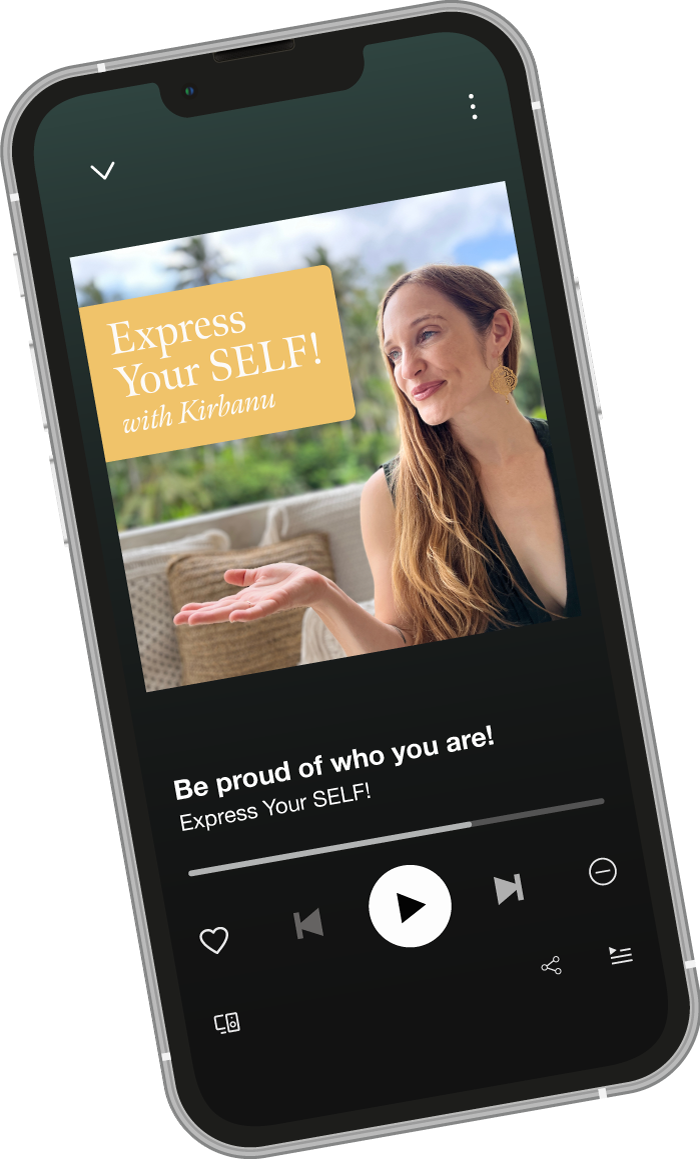 An exercise to Activate your Shakti
An exercise I encourage you to do to activate your shakti:
Take 5 minutes each day in stillness
Perhaps drink your fav coffee or tea… but use this time to listen within
Have a paper and pen nearby in case inspiration flows… but have no expectation
After 5 minutes put on your fav song and let your body move… stand, sit, roll about, dance, do yoga, throw your arms, anything you like… just listen to the impulses from within and let them guide you
When the song is finished, sit once more and reflect on your experience. Ask yourself questions, like;

"What do I need right now?"
"How would I like to move?"
"What creative thing would I like to do more of?"
"How can I do 5 mins of that for myself each day this week?"
Tune into your Shakti energy, your creative force, and let her guide you! Activate your Shakti!
Adi Shakti Mantra
One of my fav mantras to help activate your Shakti is this one:
Adi Shakti, Adi Shakti, Adi Shakti, Namo Namo
Sarab Shakti, Sarab Shakti, Sarab Shakti, Namo Namo
Pritham Bhagvati, Pritham Bhagvati, Pritham Bhagvati, Namo Namo
Kundalini Mata Shakti, Mata Shakti, Namo Namo.
It's an extremely powerful mantra that helps us tune into the infinite, divine, creative force in all of us. It's a mantra to help strengthen our connection to this energy within and to aid us in conscious creation from this place of feminine awareness.
I created a version of this mantra, together with English lyrics, on my first Mantra album, Mantra Medicine Volume I. You can listen to it, or chant along with me here:
Jessica, Germany

Human Resources

"Kirbanu trains so much more than just the voice. Her work transforms the body, mind and soul. Kirbanu uses playful exercises and effective techniques to help me connect to my authentic voice and change any block or beliefs holding me back. And she does it with a lot of heart and humour!"
Marie Brauburger, Germany

Text & Copywriting Coach

"Voice training with Kirbanu is really fun! She creates a trusting atmosphere and has an incredible number of tips on how to use and cultivate your own voice. I've only had a few sessions, and I'm already seeing huge progress 🙂 Speaking freely in front of the camera is much easier for me now!"
Samantha, Germany

Social Media Manager

"Thanks to Kirbanu, I see my voice as a tool that shows me in which situations I can relax more or where there may still be issues or beliefs that need to be resolved. I trust myself and my voice more now!"
Kelly, France

Project Manager

"This work was amazing! Kirbanu taught me to let my whole voice out!"
Diana, Germany

Author & Psychologist, Germany

"Kirbanu has been with me for 6 months now and a lot has happened in different areas of my life, because the voice also represents so many beliefs, topics and wounds in us... Our self-expression, lived out freely and safely, opens up many doors and gives us a whole new quality of life. I'm so grateful for this work!"